balance replacement--what attachments?
A quick learner from El Cajon, CA says:
June 29, 2012
Looking to replace (1) balance from WindowMaster single hung. Number stamped on balance is 2140 but didn't find a balance with an identical top/shoe match on products page. Please send parts # and cost (incl. shipping). Does balance come with top & shoe attached? Thank you, Frank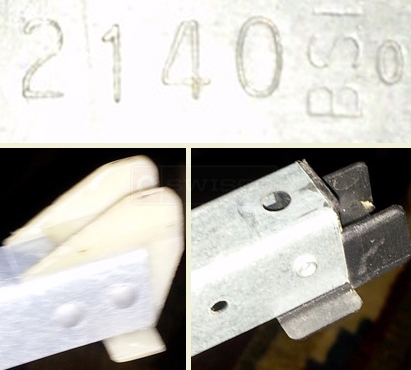 Paul from SWISCO responded:

July 2, 2012

Thanks for posting. Before I can offer an applicable replacement for this

channel balance

, I just need to know a bit more information about the bottom attachment. Please take a look at our

15-004

and

15-005

channel balance shoes, and note their depths. As you can see, they are 1-3/32" deep and 1" deep, respectively. Which one more closely matches your own bottom attachment?

Our balances

do

come with the plastic attachments.
A quick learner from El Cajon, CA 92021 says:
July 2, 2012
Hey Paul, it measures 1 3/32". Hope I mentioned the balance is 22" in length and has a 2140 stamp on it.

I am ready order as soon as I hear back from you. Thanks, Frank
Paul from SWISCO responded:

July 3, 2012

Thanks for getting back to us. In that case, I recommend that you look at our

S385-22

channel balance with a 2140 stamp.
A quick learner from Pasadena, CA says:
September 17, 2012
Hi Paul (or other SWISCO person),
I am replying to this discussion topic, because I believe that I have a very similar situation.
I have 23-year-old WindowMaster single hung windows and the channel balances that need to be replaced on the left side of two of my windows. They look exactly the same as the pictures this "quick learner from El Cajon" has posted above.
The only differences are that the balances are stamped 2740R from one window and 2740W from the second window, and the metal channels are each 28 inches long. The top plastic shoe had the measurements of your
19-005
product and the bottom plastic shoe has the measurements of your
15-004
product.
Therefore, I believe that I should order the 28 inch
Series 385
channel balances with product code
S385-28
.
Do the letters R and W appended to the numbers that I have listed above (2740R and 2740W) have any meaning? Each of these is from the left hand side of these two different windows, but these channel balances appear to be exactly the same except for the appended letters R and W.
Also, the reason for replacement is that the cord finally snapped in each of these two left side channel balances. Since there appears to be significant wear on the nylon single track pulley of each, I intend to replace both pairs of left and right channel balances in both windows.
As soon as I hear from you on whether this is probably the correct product, I will place the order. I had originally thought to replace just the sash cord on these WindowMaster balances, but your prices are reasonable and a replacement of the entire channel balances should make for much better operation in the years ahead.
Thank you
Paul from SWISCO responded:

September 18, 2012

Good morning, and thank you for contacting our Discussion Board! I agree with you--it sounds like the 28"

Series 385

channel balance is a good match. However, I'm not quite sure what the R and W markings mean. They may just be manufacturing markers, and therefore not anything of significance. Then again, it's always best to double check just in case.

My natural instinct is to recommend the 2740 option. This can support a window sash weight of 19 through 26 pounds. Does your sash's weight fall within that range? You can determine this by removing the sash from the window and placing it on a scale.
A quick learner from Pasadena, CA says:
September 18, 2012
Hi Paul,
Thanks for the information. Each window weighs 24 pounds, so the 2740 option looks correct.
I have placed an order for 4 of these
Series 385
channel balances for my WindowMaster windows.
Concerning double checking on the R and W markings, I am going to skip that, because I doubt that they are relevant. Anyway, some years back apparently WindowMaster got acquired by Jeld-Wen, the brand is not one of Jeld-Wen's current products, and the online information about WindowMaster windows on the Jeld-Wen site is very sparse.
I only stumbled upon your website via Google after much searching and realizing that the correct term to use was "channel balance" versus some of the other terms I used, such as "sash balance" "window sash" and "window cord" which did not get me what I needed. The only reason why I am typing this in here is to leave some bread crumbs for other lost consumers like me who might be using a search engine to hunt for channel balances to repair their own windows.
Thanks again for the help.
Paul from SWISCO responded:

September 19, 2012

Thank you! We appreciate the assistance. There are, indeed, a lot of old, outdated, and often incorrect terms for window balances floating around, so it certainly gets a little confusing. I'm just glad we were able to help.