Does my spiral balance need to be adjusted?
A home owner from Cincinnati OH says:
April 8, 2013
How can you tell if the balancer needs cleaned/adjusted versus replaced? Several hard to raise/lower windows and all have those balancers. When I take it apart, what am I looking for? Thanks for the great site and info!
Tom from SWISCO responded:

April 9, 2013

Thanks for posting! I'm glad you like our site.

You can't really tell whether a balance is broken or has only lost its tension just by looking at it, unless of course there is obvious damage. If there's no visible harm, though, then you'll have to try charging it first and see if the balance gains that tension back.

There are two different methods of charging your spiral balance depending on what type of window you have: tilt or non-tilt. Take a look at the two guides we have below for detailed instructions on the best method for both.

Now, if you're just winding the spiral over and over without it gaining any tension at all, then the balance is probably shot and will need to be replaced. Let me know if that's the problem and we can work from there! You can also look through our

Spiral Balance Home Page

and simply follow the steps in order to find the hardware you need.
A home owner from Cincinnati OH says:
April 9, 2013
Thank you. Looks like I'm going to need your tool to test.
Both sides, right more so, hard to push up and down using a screwdriver on it with window out. Definitely not moving freely. The one picture shows the orange cap on the spiral housing slightly off, but that be normal. Its the thicker diameter version of the spiral balance.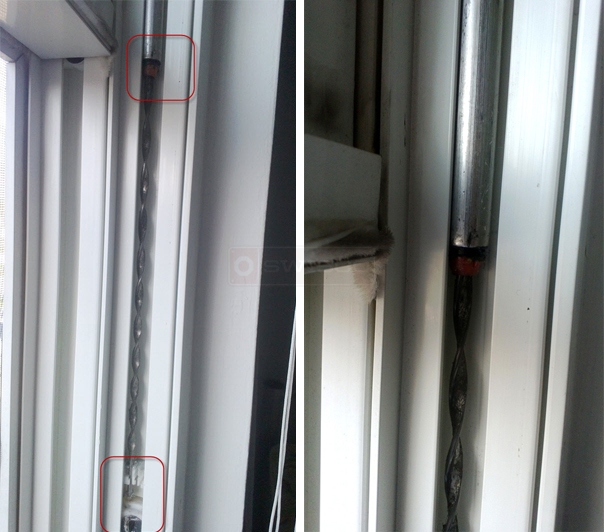 Tom from SWISCO responded:

April 11, 2013

Hmm. When you moved the shoe up and down, did you make sure to twist the cam so that it was no longer locked? You might want to check out our video on how to replace a spiral balance to see what I'm talking about.

If you do need to replace the balance, then check out our

Spiral Balance Home Page

to determine what you need.