Replacing Caldwell window channel balances
A quick learner from Encino, California says:
October 15, 2010
I have two caldwell window channel balance I need to replace. One is stamped 17 4 GR Caldwell. The other one is stamped 32 4 HR Caldwell. Both are 1/2" size. Please tell me which one to buy. Thanks
Existing channel balances:
17 4 GR Caldwell
32 4 HR Caldwell
both are 1/2" wide and 9/16" deep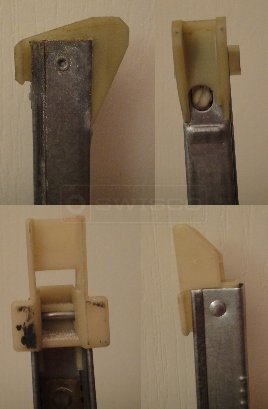 A quick learner from Bonita Springs, Florida says:
April 19, 2012
I have a balance I need replaced.
It has 28 3 EN CALDWELL on it.
I saw your answer to Encino (above) and your answer makes no sense.
Do you have a replacement for Caldwell?

Thanks
Donna from SWISCO responded:

April 20, 2012

Thanks for posting! I'm sorry for the confusion. The first and most important thing we need to help you identify what balances you need is the Series. This is determined by the plastic attachments you have on either end of the channel. The stamp indicates only its weight capacity, and the manufacturer is, in many cases, arbitrary. They do not tell us the configuration needed.

To get started, please take a look at our

Replacement Sash Support Channel Balances

section on our site. You may also want to take a look at our tutorial video on how to best identify your channel balance.
A home owner from Colorado Springs says:
March 30, 2014
Greetings from Colorado Springs, CO.

I was looking at your web site and came across the pic's from the "quick learner from Encino".

Looking at the pics, I have the exact Caldwell Channel Balances. The ends are identical but the length of the "metal" channel is 21" long. I have 4 of them that I would like to replace. However, on two of them it says "Caldwell 20 5 CQ" and on the other two it says Caldwell 20 2 DQ". Im not sure but it seems like the thickness of the springs are different and definiately weigh differently.

These channel balances come out of identical windows that are side by side. QUESTION??? Why the different sizes of springs? The windows are double glass, plastic framed, and the "window or glass" is 36" wide.

So, What replacements do I need?

Respectfully, Roger
Paul from SWISCO responded:

March 31, 2014

Hey, Roger. I'm not sure why your window has two different sized springs, actually. They should be identical.

If you can confirm that you have the

Series 385

channel balance, then check out the

S385-21

. There, you can see a list of all the options and how much weight each option can support. I recommend that you weigh your window sash and see what the weight is, then match that weight to the option that matches. If your weight is different from anything we have listed, let me know and we can try to work it out for you.
A home owner from Colorado Springs CO. 80920 says:
April 4, 2014
Thanks Paul for your response to my email. I have established that I indeed have the
S385-21
Channel Balances. I weighed my 2 sashes and interestingly they were 22.5 lbs and 23 lbs. Looking at the breakdown for the "options" 2040 is rated from 15-23lbs and the 2050 is rated from 23-27 lbs. So, the question is" Which ones do I need? So again, which option do you suggest, 2040 or 2050?
I will need four for the two windows. I'll be waiting for your response so I can get them ordered.
Paul from SWISCO responded:

April 7, 2014

I think in this instance, you should go with the 2040. I think the 2050 would be too strong for your sashes, in this case.
A contractor from california says:
May 7, 2016
your two windows may look identical, but if one was installed next to a door, building code would have required it to have tempered glass. Tempered glass is heavier and wiuld have warranted a stronger spring.
A quick learner from San Diego says:
December 16, 2017
Thank you "Contractor from California" You saved me effort and expense by pointing out that windows adjacent to doors are tempered, heavier and require a different channel balancer to offset the weight! Sure enough, we need one type of balancer for most of our windows and a stronger one for our window next to the patio door once we checked the model numbers on the old balancers. THANKS!!!!